Designed and developed by Net Entertainment, the Reel Rush slot can be played from mobile and computing devices. The developers integrated simple animation and features into this game. Based on the 90s video game, players will experience a rush of pure joy as they spin the candy reels.
Older Generation Video Game
Children of the 80s and 90s will automatically spot the Mario Bros theme and gameplay and appreciate it. Even people who were not into video games may still appreciate the style of this game. Another game that the Reel Rush slot could be compared to would be Candy Crush, which has been insanely popular among the mobile gamers. Reel Rush slot does not confuse players with extra features, bonus rounds or intricate mini games. What does Reel Rush slot have to offer? Well, players can access multi-way winnings, re-spins and exciting wilds. Additionally, the game sometimes climaxes into a frenzy of seemingly endless free spins.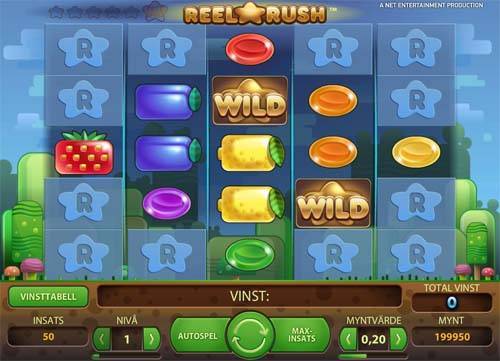 Not a Game to Get Rich From
However, gamers should not play this NetEnt game to acquire vast wealth. While Reel Rush does offer plenty of decent winnings and free spins, the likelihood of striking it rich is highly unlikely because of the low variability. Nevertheless, good streaks can lead to making back 80 to 90 times the original bet. However, the highest average amount won in this game usually sits at around 50 times.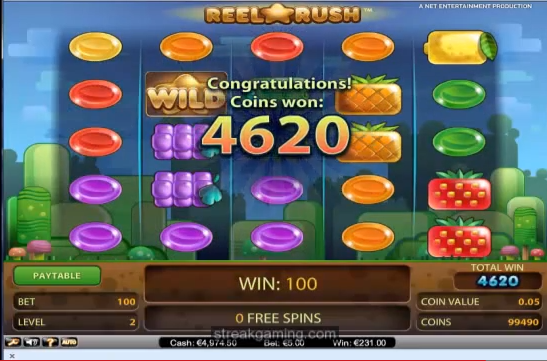 Return to Player Ratio
With a generous 97 percent return to player rate and 3125 ways to win, this slot became a top mobile slot in the book of mobile gaming enthusiasts. People who choose to play from their mobile device should play via Firefox, Chrome or an alternative browser because the music might not work. The music that Rush plays as gamers climb towards free spins wonderful, and without it, the game is not as riveting.
In-Game Bonus Features
Wilds are the Golden Power-Up star and will shine and spin with golden rays of sunlight. They will appear on every reel except the first and will yield bigger winnings. Another highlight is the free spins meter and re-spins. A normal game has 45 paylines, and each time you have won, the board will open up. Winning five times in a row opens up the entire board.
People feeling nostalgia for past video games will find the Reel Rush slot a beloved classic. The music and free spins are the noteworthy elements of this slot because it builds anticipation and amplifies the experience for gamers.