Integrating the classic-style Vegas slot and combining it with funk music, the Twin Spin slot takes players down to funky town. As another beloved title of Net Entertainment, people can access the game from both computing and mobile devices. The mobile version plays flawless on all devices ranging from:
* Android Phones
* iPads
* iPhones
* Tablets
The Twin Spin game has divided slot enthusiasts on a global scale. It is the type of slot game that people will either love or hate, but players are unlikely to feel neutral towards it. Players who might enjoy this slot include people who enjoyed Thunderstruck II and Voila. People can expect impressive features and excellent graphics. While Twin Spins uses sharp graphics, they come with a hint of old school: This means sevens, cherries and bars. In addition, the slot does not offer scatters, free spins or tons of bonus features.
Worth the Risk?
Offering a 27.8 percent hit rate and 96.6 percent return to player rate, this classic video slot features a mid to high variance. Many gamblers believe small wins equate to low risk. With this game, the small winnings will barely cover the bets to allow players to continue. Players who hit 50x to 100x their bet will experience heart flutters as shiny Vegas lights spin and create a mega win.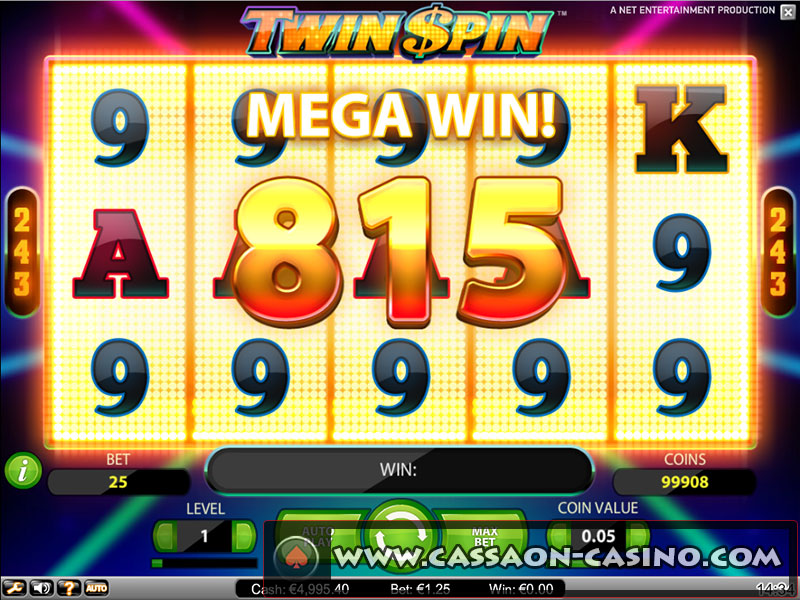 Coin Range and Maximum Winnings
The coin range reaches from $0.01 to $0.05, and players can win a grand total of $135,000 in cash. Twin Spins slot comes with a house edge of just 3.4 percent. There are five reels and 243 paylines.
Bonus Features
While Twin Spins does not come with many of the flashy bonus features found in other slots, the wild symbol shows up on reels two, three, four and five. It is a simple symbol but impossible to miss. The Joint Reel feature means that players receive a cloning for two of the reels, which are linked together. Gamers can get up to five connected reels using the joint reel feature.
Low-risk gamblers will feel enticed into playing the Twin Spins slot, believing that the joining reels will keep their bank balance stable. However, Starburst slot could be a better option for those players. Twin Spin slot is a better choice for players who want to chase the giant jackpots and the larger adrenaline rushes. While it is one of the simpler slots, Twin Spin brings about a joyful anticipation as it entertains slots enthusiasts.