Thanks to some leaked artwork the teams of Captain America: Civil War has been revealed. As you can guess, this only makes everyone more anxious to see the film.
One thing we've come to know about Marvel's tactics to create hype is to "accidentally" leak something or another, then allowing the masses to go nuts with it. Well, they've done it again. The culprit is none other than Jeremy Renner, better known as Hawkeye. He casually shared the images on his twitter page, asking his followers what they think. Even though he wasn't the first person to have sent these ripples across the internet ocean, it was his involvement that really got people talking. Mr. Sunday Movies, as he is known by his YouTube profile, was the guy that initially released the concept art. The thing to remember about concept art is that it doesn't necessarily depict the final product, but for some reason these pictures seems to be quite accurate. If you haven't seen these images yet, we won't keep you in suspense any longer.
The Captain America Team
There aren't really any surprises here. Steve Rogers will have the talents of Falcon, Bucky Barnes, Sharon Carter, Hawkeye and Ant-Man. His longstanding relationships with Falcon, Barnes and Carter made it pretty obvious that they would choose his side. In fact, Falcon is regarded as his closest friend, while Barnes forms a big part of his history alongside Carter, who picks up where her mother left off. The reason why Hawkeye is part of the team isn't really clear, but Marvel did want to create some controversy between him and Black Widow. How this will effect their friendship remains to be seen. As for Ant-Man, he is perched on the shoulder of Hawkeye. The fact that he rebelled against the government before he became a superhero only confirms his spot alongside Captain America.
The Iron Man Team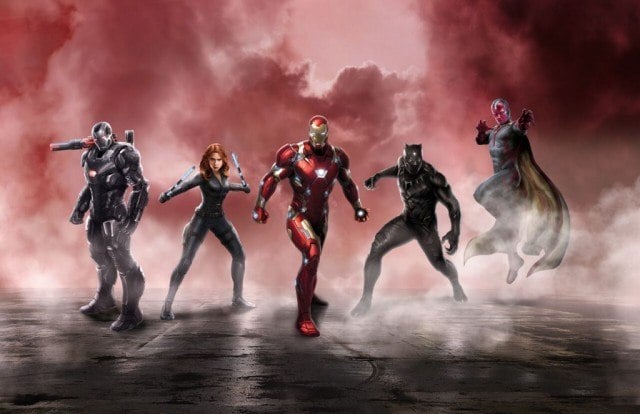 The heroes backing the billionaire playboy are War Machine, Black Widow, Black Panther and The Vision. Once again, there aren't many surprises here except for Black Widow. Given that she has a better friendship with Rogers and a lot more intimacy with Hawkeye, it will be interesting to see what tipped the scales for this gorgeous woman. War Machine (James Rhodes) has been Stark's friend for years, so there is no question why he supports him. The Vision's primal instinct to keep humanity safe pretty much explains his position and Black Panther has connections with Stark's family.
Anything Else We Should Know?
The only interesting information we can add to this is that Spider-Man will probably retain his position as the peacekeeper. He was placed on the "main character" list while they were filming in Germany and a great deal of the story has been borrowed from the comic books. However, we still demand to know whether the Hulk will be anywhere in this movie? He's definitely kicking ass in our slot game, which is always available by the way, so why shouldn't he be kicking ass in the movie? Maybe Marvel is aware that by placing him on a team will turn the tables completely. Well, there you have the teams of Captain America: Civil War. Now we just need the film!!!